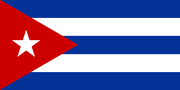 Presidents:
Alberto Herrera y Franchi (Provisional August 12-13 1933)
Carlos Hevia y de los Reyes Gavilán (Provisional January 15-18 1934)
Carlos Manuel Agustín Márquez Sterling y Loret de Mola (Acting part of January 18 1934)
Miguel Mariano Gómez y Arias (May 20 - December 24 1936)
Capital: Havanna
Ad blocker interference detected!
Wikia is a free-to-use site that makes money from advertising. We have a modified experience for viewers using ad blockers

Wikia is not accessible if you've made further modifications. Remove the custom ad blocker rule(s) and the page will load as expected.