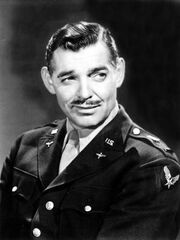 Clark Gable was a motion picture actor in the 1930s.
Notable roles of his include Peter Warne in It Happened One Night (1934), for which he won his only Oscar; Fletcher Christian in Mutiny on the Bounty (1935); and Rhett Butler in Gone with the Wind (1939).
In 1938, he was given the title of "King of Hollywood" for his numerous contributions to the film industry. The title came from Spencer Tracy in jest, but was later validated by a poll in Ed Sullivan's newspaper column, in which 20 million fans voted him "King".
Ad blocker interference detected!
Wikia is a free-to-use site that makes money from advertising. We have a modified experience for viewers using ad blockers

Wikia is not accessible if you've made further modifications. Remove the custom ad blocker rule(s) and the page will load as expected.