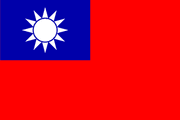 Leader: Chiang Kai-Shek
Capitals:

The Nationalist Party had been in power in China since their takeover in 1912, and this time period was thus known as "The Republican Era". During this time, China's main cultural center was in Shanghai.
Chiang Kai-shek (Jiang Jieshi) was the leader of the Nationalist Party during this decade.

After the Japanese invasion of China, the Chinese government fled to Hankow, making it the capital during the war[1].
The center of fashion for China was Shanghai. The main dress for women was cheongsam (qipao), which became slimmer and more skintight in order to acomodate new activities from the Western lifestyle (such as swimming, dancing and golf). Men generally wore a gown and over-jacket, and civil servents wore a tunic suit called a Zhongshan Zhuang.
Web Links
Edit
Ad blocker interference detected!
Wikia is a free-to-use site that makes money from advertising. We have a modified experience for viewers using ad blockers

Wikia is not accessible if you've made further modifications. Remove the custom ad blocker rule(s) and the page will load as expected.